MIDCM Gallery
Van Evera Bailey
Born in Portland in 1903, Van Evera Bailey apprenticed under William Gray Purcell, a Midwest transplant who learned in the circle of Frank Lloyd Wright. He traveled the world and then settled in Southern California, where he designed homes in a very modern, streamlined style. Bailey returned to Portland in 1936 to design a house for his sister and never left. He went on become known as one of the pioneers of the Northwest Regional Style, designing several homes of historic significance.
His work both innovative and practical, lending itself to the climate of the Pacific Northwest. His designs have received worldwide attention including a cover story in 1954's Better Homes and Gardens magazine, which featured the David Eyre house located in Portland's West Hills. Photo courtesy of Restore Oregon.
Pietro Belluschi
Pietro Belluschi Born in Italy, Pietro Belluschi made his way to the United States through a fellowship grant to Cornell University. He got his start as a draftsman at A. E. Doyle and Associates in Portland and went on to design over 1,000 structures, including homes, commercial buildings, museums and place of worship. He is widely renowned as one of the foremost leaders of the Modern Movement in architecture. His first major project was the Portland Art Museum in 1932. Belluschi was an innovator in every sense of the word. His design of the Equitable Building (1944–47) in Portland was the first commercial structure of its kind: a concrete frame office block clad in aluminum and glass with a completely sealed air conditioned environment. Photo courtesy of Restore Oregon.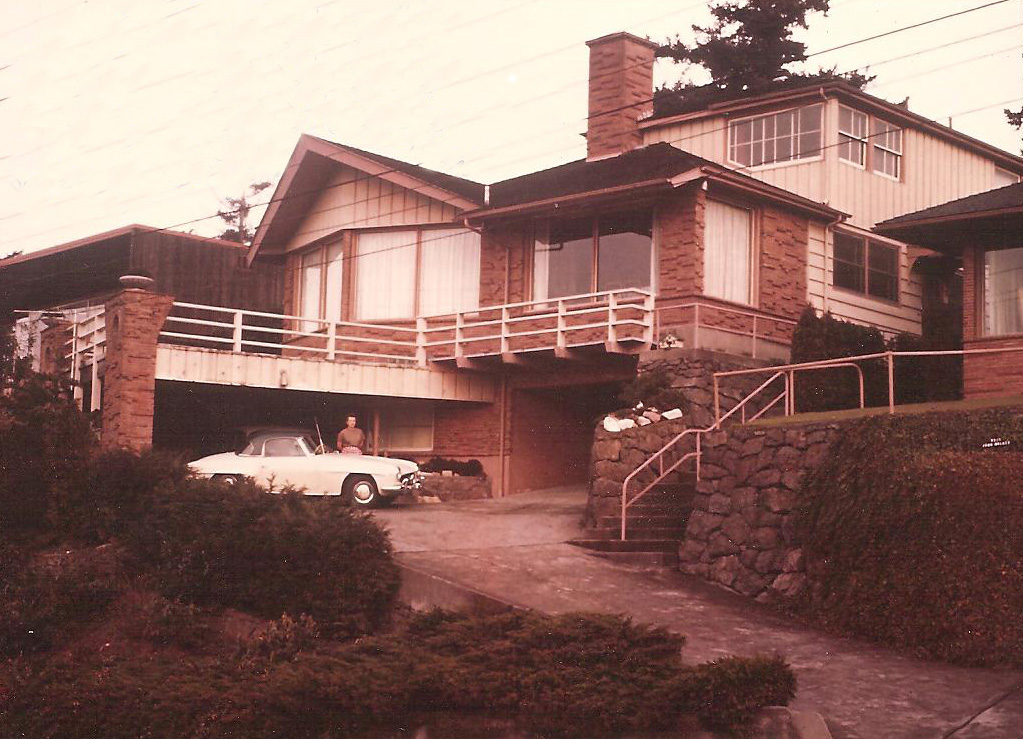 Kenneth L. Birkemeier
The building boom of post World War II made its mark on most American cities, and Portland was no exception. Kenneth L. Birkemeier designed and built approximately 700 homes and apartment buildings during the mid-century era, most of them concentrated in the Alameda, Irvington and Rose City Park neighborhoods of NE Portland. While not attached to one particular style, the Birkemeier Modern House was the one stood out then, and now. These distinctive Roman brick, or partially brick houses were customized to each site, almost "hand-fitted" into the natural landscape. Inside, they included the most technologically advanced features of their time and were considered "futuristic." Birkemeier worked on every house himself. His vision, pride and workmanship are evident in each of his unmistakable homes. Photo courtesy of alamedahistory.org.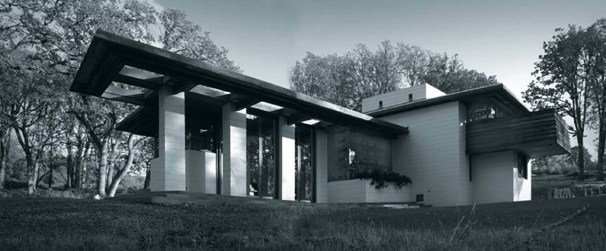 Walter Gordon
Walter Gordon studied architecture in both the United States and in Paris, France. He served as a curator at the San Francisco Museum of Art prior to settling in Portland, where he worked with Pietro Belluschi at A. E. Doyle and Associates. Gordon was highly active in the community, serving on various commissions that were dedicated to both development and preservation. He designed numerous residences throughout the Pacific Northwest, most reflecting the Northwest Regional Style, including the Jack and Betty Meier House in SW Portland. He also designed the Southwest Hills Library and many of the buildings at Marylhurst University. Photo courtesy of Restore Oregon.
Robert Rummer
Inspired by the modern design aesthetic of Joe Eichler, Robert Rummer began building in the Portland area in 1959 and completed approximately 750 homes in the area. Rummers have an almost "cult-like" following in Portland and are highly sought after by Mid Century Modern aficionados. Featuring post and beam construction, vaulted ceilings, floor to ceiling windows, radiant heated floors and indoor atriums, The Rummer's inspired open floor plans bathed in natural light live as modern as if they were built today. During a 2011 interview with Oregon Home, Rummer described his architectural vision as: "houses that bring the inside out or the outside in." It couldn't be more accurate. Rummers can be found scattered throughout the Portland metro area, as well as in the suburbs of Beaverton, Lake Oswego and as far east as Gresham. Photo courtesy of Travis Stanley.
Frank Shell
Born in Omaha, NE, Frank Shell received his architecture degree from Washington State College. He moved to Portlandin 1949 and began to work with two partners, Jonathan Farnham and Charles Hoyt, creating the firm Farnham, Shell and Hoyt. Designing mostly commercial structures, including schools and churches, Shell was a pioneer of the modern style in Portland. His designs include Estacada and Oakridge high schools and Tabor Heights, Calvin Presbyterian and Hood View churches. Shell, who passed on in 2006 at 86 years of age, created only a few residential designs, including his own in the Multnomah Village area. Photo courtesy of Building Blocks, LLC.
John Storrs
A native of Connecticut, John Storrs relocated to Portland after hearing a lecture by Pietro Belluschi. The Yale University graduate got his first big break in 1956, when he was commissioned to design the Portland Garden Club. Storrs went on to design many commercial structures that are highly significant to both Oregon and the Northwest Regional Style. Of these, Salishan Lodge on the Oregon Coast is likely the most well known.
Closer to the city, you can marvel in his work at the World Forestry Center at Washington Park, the Oregon College of Art and Craft, and the John's Landing Water Tower. Photo courtesy of oregonlive.com/The Oregonian.
John Yeon
A founder of the Northwest Regional Style, John Yeon was highly influential in shaping Portland's architectural landscape. A native Portlander with essentially no formal training, he is best known for the Aubrey R. Watzek House, built in 1937. Yeon was just 26 years of age at the time. Located on over three acres in Portland's West Hills, the U-shaped house centers around a majestic courtyard and is highlighted by its stunning living room, which features a close to unobstructed view of Mt. Hood from its floor to ceiling windows. Now listed on the National Register of Historic Places, photographs of Watzek house have been featured in media across the world, as well as part of an exhibition at the Museum of Modern Art in New York City. Photo courtesy of Rejuvenation.
Saul Zaik
The last living master of Northwest Mid Century Modernism, has designed everything from schools and commercial buildings to the renovation of Timberline Lodge. Zaik's use of wood beams, columns, and glass, combined with an unwavering sensitivity to the natural landscape of the region have made him one of the most prominent architects in Portland for over sixty years. While there are countless designs worthy of praise, The Feldman House certainly is one of special note. The house was honored by the Oregon chapter of the American Institute of Architects, featured in Pacific Architect magazine and was featured on the 2008 Street of Eames Homes Tour. Photo courtesy of Portland Monthly.